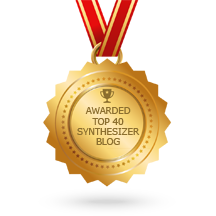 I got a funny email today that told me this blog had been chosen as a Top 40 Synthesizer blog. Quite honored, I thought. So I went to the site (hoping against hope that it wasn't some sort of Russian pr0n site) and found that I had, in fact, cracked the top 40.
Alas, they didn't even have 40 - they only had 36. And this blog was #36. So there's that...
But it was kind of an interesting scroll; I'm sure most of those people (except for Mosher and the Synthtopia folks) had never heard of me - but I'd never heard of them, either. So it gave me something new to swirl around in, and I had a little fun with it.
So enjoy your time here on our Award Winning site, and check out the
Feedspot Top 40
(erm, Top 36) synth blogs to add some spice to your life - sans Russian creepiness, I think!
[ddg]