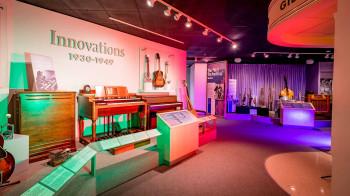 Earlier this week I got pinged by the good folks at NAMM to let me know about the opening of

Music from the Sound Up: The Creative Tools of Synthesis

,

an exhibit about electronic music synthesis and the musical instruments that surround it. This exhibit, at

NAMM's Museum of Making Music (MoMM), is a unique interactive program that introduces visitors to the basic ideas of sound synthesis using metaphors like a sieve for a filter, or a bicycle wheel for a modulation.
It's a neat approach to opening doors for interested parties, and it's good to see NAMM embrace synthesizers (and systhesis), since it is a pretty robust part of the MI market at this point. If you find yourself in Carlsbad (which is a bit north of San Diego), check it out - and let me know what you think!
[ddg]